We were happy to join the Global Service Design conference again this year. During the conference we talked to speakers, volunteers, organisers from all over the worldand many more. You can find a compilation of all these interviews and our own recap here.
Relive the conference
We had some time to think about and reflect on our learnings in our own work situation. We would like to give you a recap of the topics and discussions we found most relevant to the state of Service Design today.
Is Service Design about designing a service or is it about the implementation of the service?
A discussion arose over the fact that Service Design is still the 'design' and not the 'implementation' otherwise it would be called service implementation. We have to admit we were pretty upset with this one. We believe that design does not stand for phase were we come up with a service concept, but designing stands for an iterative way of working with constantly prototyping, testing and improving. So service design is about successfully implementing (otherwise it would be called service research) It is about bringing people together and testing as soon as possible. Its not just about making a nice design that works for clients, its about changing an organisation, about changing people's jobs through delivering a service in a customer-centred way.
It is not about making an ideal customer journey and then defining the touchpoints that are most crucial to improve. It is about implementing those touchpoints and constantly improving them over time.
Training people to become service designers versus training service design skills within their position
More and more we see our job shifting from solely designing services towards transferring Service Design skills to the clients we work for. During the conference the question arose whether we should be training people to become Service Designers at all. Our opinion is that we definitely need to transfer our skills. When we introduce a new way of working in organisations we should not just implant them on the project we are working for. Our effect on an organisation can be soo much bigger when we train people in constantly gathering customer feedback, prototyping service improvements and constantly improving their services for their customers and their own organisation.
Does that mean we need to train people to become a Service Designer? We don't think so. (unless someone really has the intention to become a service designer but then a more elaborate training would be necessary) What we do believe is that we need to transfer Service Design skills. At Knight Moves we do this by organising different kinds of trainings. For example workshop facilitation trainings where we explain how to successfully facilitate creative workshops. Or we take clients along in the research phases, we first organise user tests where they can join, then we co-organise the user test, so that they in the end they will do user testing by themselves. We also teach them the process to more specific Service Design tools. For example how to successfully create personas or customer journeys.
We are not training people to become service designers but we are training them in using service design skills in their own job functions.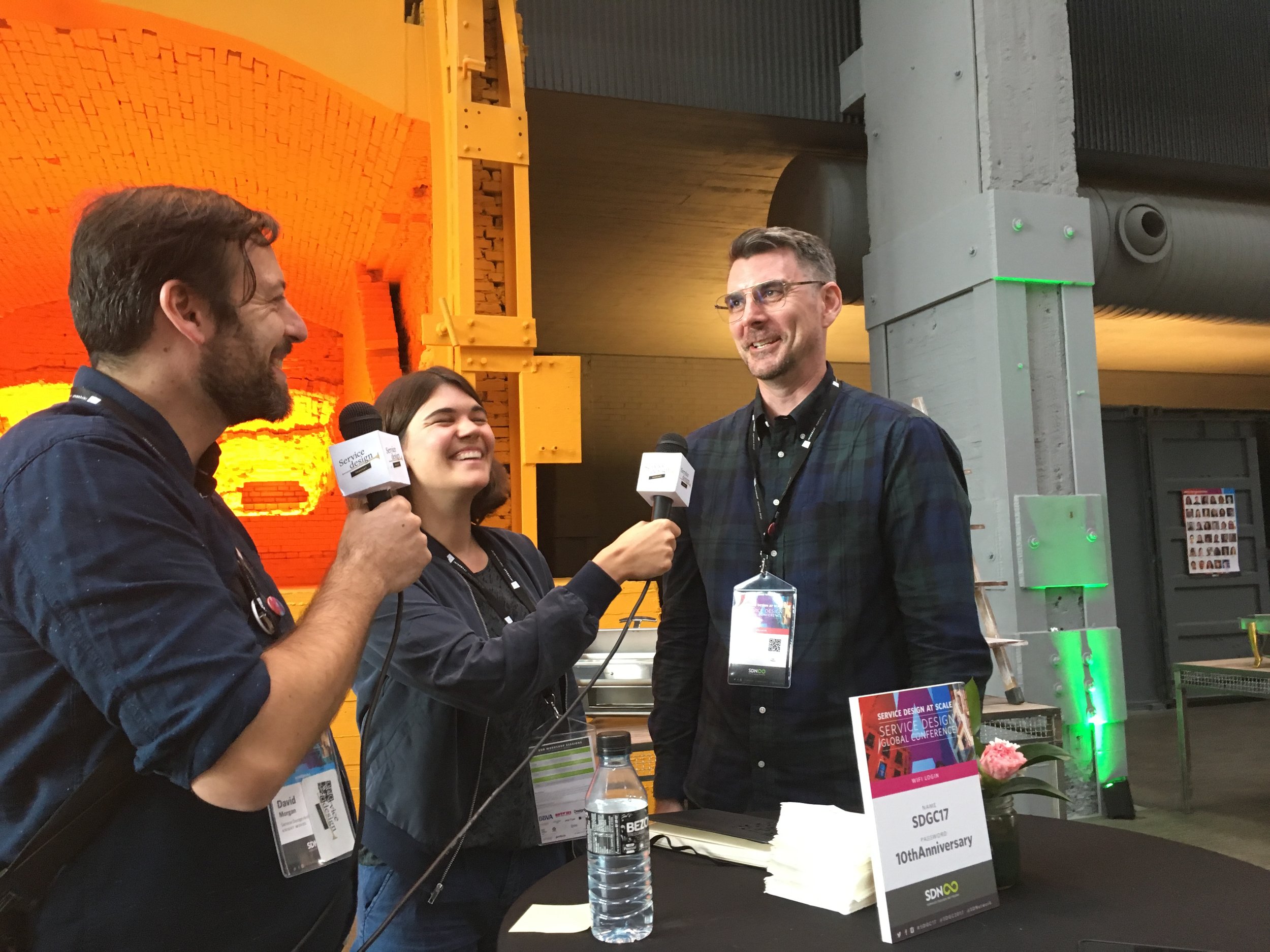 Don't avoid conflict, put it on the table
We were very happy that we could join the workshop 'diplomacy design' from Bridgeable. During this workshop the people from the Canadian design agency Bridgeable talked about 'how Service Designers can learn from diplomats'. What we remembered from the workshop is that we as service designers too often try to please all stakeholders, thereby avoiding conflict. But we have to dare to put the conflict on the table. We need to talk about the conflict to solve it all together instead of avoiding it and probably countering it later in the process. They provided us with a beautiful booklet and templates to use during workshops.
Consultancy is dead, let's move service design in-house
Should organisations hire Service Design agencies or should they hire Services Designers in house. We don't think it is one or the other. The questions is whether organisations are ready to hire Service Designers and let them be part of the organisation. GOV.UK is a great example of how Service Designers successfully became part of an organisation. But these people need to be managed and be fully integrated in different parts of an organisation. Many of the organisations we work with are not ready to hire Service Designers, their proces is too different from the one we use that we believe we have to go step by step. We first need to show the impact Service Design can have from the outside. Bring in some new mindsets step by step. Once this works, a great next step would be to generate a plan on how the newly hired service designers will become part of the organisation and not end up at their own service design island. We believe you should not make a service design department, but really place them in different departments at different levels.
From sparking interest in working in a user-centred way until making SD part of the DNA of an organisation
During the second day Stina also gave a talk about 'Sneaking Service Design into Large Organisations'. The talk was about the evolution we went through at Knight Moves. We moved from small projects where we sparked interest in Service Design in organisations towards bigger holistic service implementations were we could really show the impact of a successfully implemented service. Until going viral insight an organisation were we made Service Design part of DNA.
Phase 1 is about the small projects to spark interest. It is about getting people on board to become more customer-centric. But unfortunately still most projects get stuck in this phase and never move towards implementing services. Not implementing means not being able to show impact. We need to move beyond phase one. Hiring service Designers is really part of going viral in an organisation. Service design in all departments at all levels. But even here we believe the first step is training people in service design skills. First we need to make people familiar with Service Design and show the impact, only then can you successfully hire service designer and make sure they are accepted in the organisation.
Watch the entire talk here!